When planning installation of your ceiling fan, there are certain factors you should take into consideration. One of the most important is how to space your ceiling fan. All quality made Agricultural, Commercial and Industrial grade ceiling fans create an air plume generated from the air above it and in the pattern of a larger circle by the time it hits the floor as illustrated by the drawing below.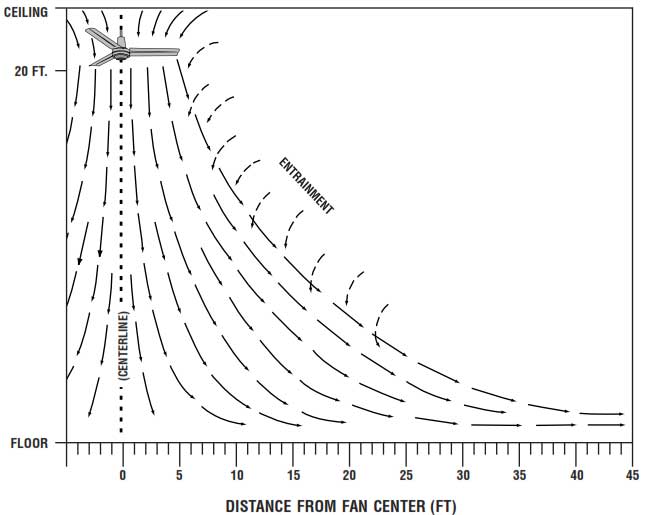 Factors such as mounting height, blade design, blade diameter and CFM (Cubic Feet per Minute) rating will influence how the fans should be spaced. Most ceiling fan manufacturer's will publish a spacing guide that generally gives you either square foot coverage at a given mounting height or the recommended distance between ceiling fans and wall guideline.
One important thing to remember, is that the air plume pattern is always round (assuming there are no obstacles) and concentric with the centerline of the ceiling fan. Once you determine the diameter of the air plume based on the manufacturer's square foot coverage at your intended mounting height, you can space the fans accordingly. Spacing the fans with imaginary concentric circles at floor level will help maximize your square foot coverage and cut down on unintended turbulence.
We will address other factors such as the difference between heat de stratification spacing and cooling spacing and when to reverse your ceiling fans (if at all) in future posts.
You can find quality made Industrial Ceiling Fans, Agricultural Ceiling Fans and Commercial Ceiling Fans at www.Airdistributor.net